New publication series offers insight and direction on sampling for vitamin and mineral status
11/29/22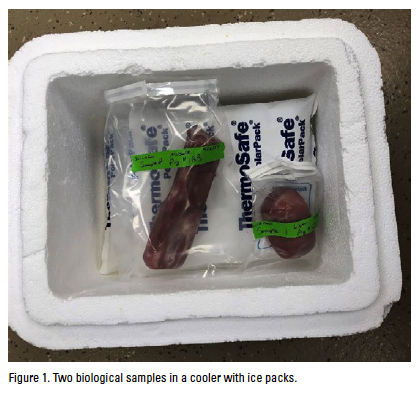 AMES, Iowa - It's important for producers to know the vitamin and mineral statuses of animals in their operation but it takes more than a simple glance to accurately determine. A new three-part publication series from Iowa Pork Industry Center, Sample Collection and Handling for Vitamin and Mineral Analyses, can help producers learn how to properly take feed and biological samples as part of the diagnostic process.
Lead author and graduate student Sarah Elefson said vitamin and mineral statuses are important to ensure that diets fed to the animal provide adequate nutrients and that the animal's vitamin and mineral status are sufficient.
"When there is a potential nutritional deficiency or toxicity, it is critical to take proper feed and biological samples, and handle them appropriately to help narrow down the cause of the nutritional issue accurately," she said. "Improper sample collection and handling can lead to inaccurate vitamin and mineral analysis results."
These resources offer information on the importance of proper blood sampling techniques and choice of blood tube for collection to avoid inaccurate vitamin and mineral analysis, and how storage can potentially affect the nutrient status of tissues. The first publication provides a general overview of sample collection, the second is focused on blood sample collection, and the third covers biological sample collection and storage, she said.
"These three publications are short and to the point, with photos and figures to illustrate the information," she said. "None are more than three pages and each highlights key points in collecting feed and biological samples intended for vitamin and mineral analysis."
Download these pdf publications at no charge from the ISU Extension store.
-30- 
IPIC was established in 1994 as a coordinated effort of the colleges of Agriculture (now Agriculture and Life Sciences) and Veterinary Medicine at ISU. Its mission is to promote efficient pork production technologies in Iowa, maintain Iowa's pork industry leadership and strengthen rural development efforts. IPIC focuses its efforts on programs that are integral and complementary to ISU Extension and Outreach. Through IPIC, Iowa producers receive accurate and timely information to make their operations more efficient and profitable.
Contact
Swine Nutrition
email
Writer
Sherry Hoyer

Communications Specialist
email