Internships
IPIC Summer Swine Research Internship
Applications are now being accepted for 2024 summer internships with the Iowa Pork Industry Center. Applications are due November 1, 2023.
Description and Outcomes
Work on an applied research project. Including data collection, creating videos and factsheets.
Collaborate with IPIC faculty/staff to develop experimental protocols, analyze data and create reports based on project results.
Gain swine industry experience through research, extension and industry networking.
Attend Iowa Swine Day, World Pork Expo and industry meetings.

Requirements
Strong interest in pursuing a career in the swine industry.
Previous experience working with pigs preferred.
Meet with collaborators 1-2 times prior to beginning of internship to make intern aware of project details, objectives, and commitments.
Must be a full-time undergraduate student in animal science (or related field) or a veterinary student (preferably swine or large-animal focused) in good academic standing (GPA greater than 3.0).
Must have a valid U.S. (or equivalent) driver's license.
Must be physically able to work with pigs in a commercial environment on a daily basis.
How to Apply
To apply submit the following materials in one pdf document to Stacie Matchan at sgould@iastate.edu.
Resume
Cover letter
Transcript (unofficial)
2 short paragraphs

One describing interest in a career within the swine industry.
One describing reasons for interest in this internship.
IPIC Student Employment Opportunities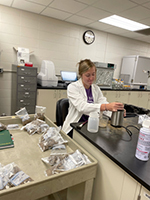 Opportunities are intermittently available for undergraduate students to work with IPIC staff throughout the year. Please contact Stacie Matchan (sgould@iastate.edu) for more information and availability.
IPIC Communications Position with Science With Practice
If you're interested in communications and the pork industry, and looking for a part-time on-campus employment during the spring 2024 semester, consider Science With Practice with Sherry Hoyer. Students enrolled in the College of Agriculture and Life Sciences can earn money and academic credit through SWP. Guaranteed consideration date is Dec. 1, 2023.
Contact Sherry Hoyer directly (shoyer@iastate.edu) for more information on this IPIC position or download the Spring 2024 semester SWP information sheet. (pdf)
Questions?
Program Specialist
email