Iowa Pork Regional Conferences to Offer Health, Water, Economics, People Information

pdf file opens in new window/tab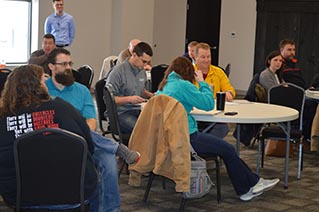 AMES, Iowa –The annual series of Iowa Pork Regional Conferences has been a long-standing partnership of Iowa Pork Producers Association, Iowa State University Extension and Outreach and the Iowa Pork Industry Center.
The shared goal of bringing research and education to the field continues with this year's program, topics and speakers. Four sessions are scheduled during the week of Feb. 15, all at different locations and running from 1 to 4:30 p.m. See the series brochure.
Speakers and topics
Dr. John Patience, an ISU professor of animal science, will discuss the central role of water and water quality in swine production.
IPIC associate director Dr. Chris Rademacher will provide an update on current swine health issues and foreign animal disease preparedness activities.
Dr. Lee Schulz, Iowa State extension livestock economist, talk about the many new  economic tools for pork producers that became available or were updated in 2020.
Valerie Duttlinger of Summit SmartFarms will talk about the best ways to keep yourself and your employees focused on the business goals.
ISU Extension swine specialists will review decision-making tools available to help you solve production problems and other issues on your pig farm.
Dates and Locations
Monday, Feb. 15 – Orange City, Sioux County Extension Office, 400 Central Ave. NW, Suite 700
Tuesday, Feb. 16 – Osceola, Clarke County Fairgrounds Event Center, 2070 W. McLane St, Hwy. 34
Wednesday, Feb. 17 – Waverly, Waverly Civic Center, 200 1st St. NE
Thursday, Feb. 18 – Washington, Washington County Extension Office, 2223 250th St.
All locations allow physical distancing as required by the State of Iowa. If weather or coronavirus conditions require the cancellation of the event; the conference sessions will be recorded and made available online.
Iowa State extension swine specialists will offer PQA Plus® training each morning from 9 a.m. to noon at that day's regional conference site. These training sessions are sponsored by IPPA and are free for those who preregister.
Check-in begins at 12:30 p.m. at each location. Please preregister for the conference and/or PQA training to ensure adequate materials are available. You can preregister online at https://www.iowapork.org/ippa-regional-conferences/, or by calling IPPA at 800-372-7675 or emailing croepke@iowapork.org.
-30- 
IPIC was established in 1994 as a coordinated effort of the colleges of Agriculture (now Agriculture and Life Sciences) and Veterinary Medicine at ISU. Its mission is to promote efficient pork production technologies in Iowa, maintain Iowa's pork industry leadership and strengthen rural development efforts. IPIC focuses its efforts on programs that are integral and complementary to ISU Extension and Outreach. Through IPIC, Iowa producers receive accurate and timely information to make their operations more efficient and profitable.
Writer:
Sherry Hoyer, Iowa Pork Industry Center, 515-294-4496, shoyer@iastate.edu

Check out
Software and other decision tools
ISU links
Agricultural and Biosystems Engineering
Veterinary Diagnostic and Production Animal Medicine
Partner links
Connect with IPIC
Questions? Contact ipic@iastate.edu