Foreign animal disease preparation workshops planned for Iowa pork producers
8/4/22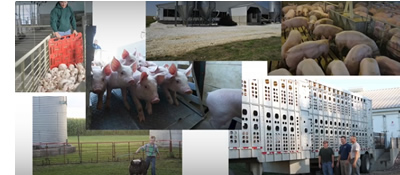 AMES, Iowa – The recent spread of African Swine Fever in the Dominican Republic emphasizes the importance of FAD preparedness, including proper biosecurity measures to aid in reducing risk of the introduction of a foreign animal disease. The Iowa Pork Industry Center, Iowa State University Extension and Outreach and Iowa Pork Producers Association have teamed up to provide five workshops throughout Iowa, and ISU extension swine veterinarian Chris Rademacher encouraged pork producers and caretakers to attend.
Rademacher, who also is IPIC interim director, said the Foreign Animal Disease Preparation for Pork Producers workshops focus on the "next steps" in FAD preparedness at the farm level.
"We'll introduce and explain how to use programs and tools to be prepared for an FAD outbreak and subsequent investigations, including enrollment in US-SHIP, AgView and Secure Pork Supply," he said. "We'll also talk about available resources for contingency planning for sites located within control zones, and potential mitigation strategies for feed shortages during the initial movement standstill."
Updates on ASF in the Dominican Republic, ASF vaccine and the Certified Swine Sample Collector program also will be shared. Following the presentations, all speakers will be available for a Q&A session on any aspect of FAD awareness and preparation.
The program will be delivered collaboratively by Rademacher, the ISU extension swine specialist for each respective location, and depending on schedule, Iowa Department of Agriculture and Land Stewardship staff member Amanda Chipman, and Jeff Kaisand, state veterinarian.
All workshops run from 1 to 4 p.m. and are free to attend. Preregistration is requested by completing this form.
For more information, contact the specialist listed by the location you wish to attend.
Dates and locations in chronological order
Wednesday, August 31
Sioux County Extension Office
400 Central Ave. NW, Suite 700, Orange City
Contact Dave Stender, dstender@iastate.edu, 712-261-0225
Thursday, September 1
Washington County Extension Office
2223 250th St., Washington
Contact Matt Romoser mromoser@iastate.edu, 319-430-7533
Monday, September 12
Heartland Acres Agribition Center
2600 Swan Lake Blvd, Independence
Contact Mark Storlie, mstorlie@iastate.edu, 563-425-3331
Tuesday, September 13
Hancock County Extension Office
325 W 8th St, Garner
Contact Russ Euken, reuken@iastate.edu, 641-231-1711
Wednesday, September 21
Marshall County Extension Office
2608 South 2nd St, Suite E, Marshalltown
Contact Colin Johnson, colinj@iastate.edu, 515-291-9287
-30- 
IPIC was established in 1994 as a coordinated effort of the colleges of Agriculture (now Agriculture and Life Sciences) and Veterinary Medicine at ISU. Its mission is to promote efficient pork production technologies in Iowa, maintain Iowa's pork industry leadership and strengthen rural development efforts. IPIC focuses its efforts on programs that are integral and complementary to ISU Extension and Outreach. Through IPIC, Iowa producers receive accurate and timely information to make their operations more efficient and profitable.
Contact
Interim Director
email
Writer
Sherry Hoyer

Communications Specialist
email