Farmers and landowners invited to workshops on buying and selling manure
2/14/23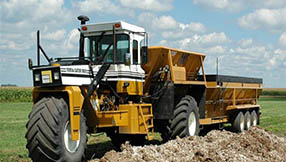 AMES, Iowa – Fertilizer prices have nearly doubled in the past two years, making it more costly for crop farmers who depend on it. Proper fertility is essential for high crop yields in Iowa, and that's why Iowa State University extension specialists have developed an educational workshop for those considering buying or selling manure. ISU extension ag engineer Kapil Arora said the two late-February workshops are designed to provide timely topics for farmers who are looking for fair ways to work together utilizing manure as a nutrient resource.
"Fertilizer costs tend to follow the energy market due to transportation and the high need for energy in manufacturing and refining of fertilizer," he said. "Livestock manure is almost a perfect match for corn and soybean soil nutrient needs. But manures are also heavy and contain a lot of water, so transportation is an issue again, just like with fertilizer."
The workshops are set for Feb. 27 at the Grundy County Extension Office, 703 F Avenue, Suite 1, Grundy Center, and Feb. 28 at the Mitchell County Extension Office, 315 Main Street, Osage. Both will be held from 2 to 4 p.m. See the Grundy County location flyer. See the Mitchell County flyer.
Arora, who will lead the workshops, said attendees will receive a spreadsheet on how to convert fertilizer prices to manure test equivalents. This allows buyers and sellers to have a good starting point on current value and where the value might be in the future.
Other information to be shared focuses on the following.
What to test for when selling manure and typical agreements that are required if the manure comes from a site that requires a manure management plan.
Information on soil compaction and application timing to protect the soil and maintain optimal yields.
Information on effect of diets on manure nutrient concentrations.
Arora will be joined by cohosts and presenters Kelvin Leibold, ISU extension farm management specialist, and extension swine specialists Russ Euken and Mark Storlie.
To register or for more information, call the ISU Extension and Outreach Grundy County office at 319-824-6979 or email at sellbakk@iastate.edu, or the ISU Extension and Outreach Mitchell County Office at 641-732-5574 or email at daolson@iastate.edu.There is no cost to attend this workshop, but preregistration by Feb. 24 is required. Refreshments and reference materials will be provided to all attendees.
-30-
IPIC was established in 1994 as a coordinated effort of the colleges of Agriculture (now Agriculture and Life Sciences) and Veterinary Medicine at ISU. Its mission is to promote efficient pork production technologies in Iowa, maintain Iowa's pork industry leadership and strengthen rural development efforts. IPIC focuses its efforts on programs that are integral and complementary to ISU Extension and Outreach. Through IPIC, Iowa producers receive accurate and timely information to make their operations more efficient and profitable.
Contact
Kapil Arora

Agricultural Engineering Specialist
email
Writer
Sherry Hoyer

Communications Specialist
email