Livestock Truck Wash
Background
Pig inventory is increasing in the United States and transportation of live animals is a key part in the pork production chain. Strict biosecurity practices are crucial to reduce disease spread between farms when moving these animals. Although there are several biosecurity practices in place at the farm level, it is also necessary to provide these practices on external vectors such as trailers used for animal transportation to prevent disease from entering the farms. One way to ensure proper biosecurity standards are met is to wash your trailers at a location that provides services to minimize or eliminate risk of spreading disease.
This site offers relevant information concerning livestock transportation and biosecurity practices at different truck washes. It also identifies truck wash locations within the states of Illinois, Indiana, Iowa, Kansas, Minnesota, Missouri, Nebraska, North Carolina, North Dakota, Ohio, Oklahoma, and South Dakota with pin points. Within the state of Iowa, general services of each truck wash are provided.
Maps and Services
We are currently working on updating this information, with expected completion at the end of 2023.
Main hog producing states
Illinois - Indiana - Iowa - Kansas - Minnesota - Missouri - Nebraska - North Carolina - North Dakota - Ohio - Oklahoma - South Dakota
Public washes located in each state: (view in new window)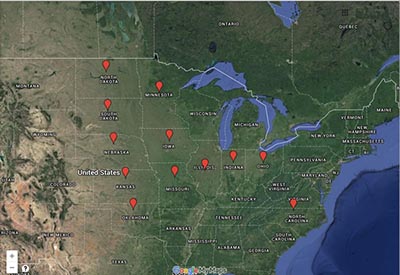 - Illinois (12)
- Indiana (22)
- Iowa (18)
- Kansas (10)
- Minnesota (8)
- Missouri (12)
- Nebraska (12)
- North Carolina (6)
- North Dakota (3)
- Ohio (10)
- Oklahoma (8)
- South Dakota (8)
Frequently Asked Questions
Background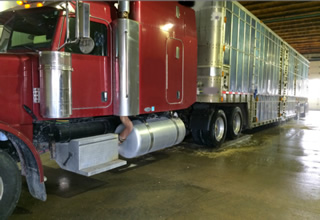 This site's primary goal is to enable producers and the general public to have access to news updates and biosecurity information on truck washes, and to become knowledgeable about locations of livestock trailer washes and the types of general services offered.
What are the basic biosecurity steps that should be taken into consideration while at a truck wash?
These basic biosecurity steps should be taken into account while at a truck wash:
For the employee: wear appropriate boots and clothing while working, do not cross contaminate (do not enter designated clean area with dirty boots or clothing), and keep personal vehicles on dirty side of wash.
For the driver: enter wash at designated entrance and leave wash at designated exit (if applicable), remain in cab (if applicable), replace driving shoes with wash shoes if at a self-wash, and follow biosecure trailer entry protocol which is shown in this video.

Survey
Where are public washes located within the United States?
Within this website, you will find the locations of public washes within 12 states. Click on the Maps & Services tab, to find all the states and pinpoints showing locations of washes.
What types of questions were asked when conducting the survey?
While conducting the survey, there were two main sections that contained questions: Truck Wash Building and Site & Procedures.
How many questions were asked when conducting the survey?
The survey was based on 34 "Yes or No" type questions. If managers or interviewees decided to go into detail about certain topics, we allowed them to.
Research Reports from this Project
Questions?
Swine Specialist
email