Deadline Approaches for Swine Building Ventilation Workshop Preregistration

pdf file opens in new window/tab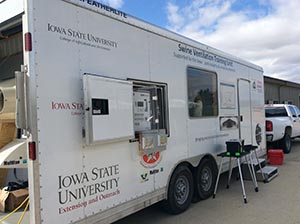 AMES, Iowa – The first session of a five-location series of ventilation workshops is less than two weeks away, and organizer Brett Ramirez of Iowa State University's agricultural and biosystems engineering encouraged people to preregister soon. The "Managing Your Unseen Employee: The Ventilation System" workshops are set for March 15-19, from 9:30 a.m. to 3:30 p.m. They're offered by Iowa Pork Industry Center and Iowa State University Extension and Outreach.
"Attendance is limited to 32 participants at each location so people need to preregister for the site they want to attend," Ramirez said. "Each workshop will have three categories in classroom-type instruction and one hands-on trial in ISU's twenty-four-foot ventilation trailer."
There's no cost to attend and people may sign up for one location only. The series is sponsored by Automated Production Systems (AP) and lunch is provided courtesy of Iowa Pork Producers Association.
Preregistration is required using this online form. See more information in the workshop series brochure.
Workshop dates, locations and preregistration contacts are below.
March 15, Sutherland, Northwest Research and Demonstration Farm, 6320 500th St.
Contact: Dave Stender, dstender@iastate.edu, 712-225-6196
March 16, Emmetsburg, Iowa Lakes Community College, 3200 College Dr.
Contact: Dave Stender, dstender@iastate.edu, 712-225-6196
March 17, Radcliffe, Hands On Excavating Shop, 3305 Ziegler Ave.
Contact: Russ Euken, reuken@iastate.edu, 641-923-2856
March 18, Cresco, Howard County Fairgrounds, Featherlite Center, 220 7th Street West,
Contact: Mark Storlie, mstorlie@iastate.edu, 563-425-3331
March 19, Iowa City, Johnson County Extension Office, 3109 Old Hwy 218 S.
Contact: Matt Romoser, mromoser@iastate.edu, 319-430-7533
-30- 
IPIC was established in 1994 as a coordinated effort of the colleges of Agriculture (now Agriculture and Life Sciences) and Veterinary Medicine at ISU. Its mission is to promote efficient pork production technologies in Iowa, maintain Iowa's pork industry leadership and strengthen rural development efforts. IPIC focuses its efforts on programs that are integral and complementary to ISU Extension and Outreach. Through IPIC, Iowa producers receive accurate and timely information to make their operations more efficient and profitable.
Contact:
Brett Ramirez, agricultural and biosystems engineering, 515-294-0468, bramirez@iastate.edu
Writer:
Sherry Hoyer, Iowa Pork Industry Center, 515-294-4496, shoyer@iastate.edu

Check out
Software and other decision tools
ISU links
Agricultural and Biosystems Engineering
Veterinary Diagnostic and Production Animal Medicine
Partner links
Connect with IPIC
Questions? Contact ipic@iastate.edu